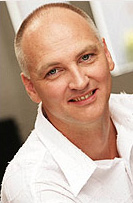 Guitarist, composer and director Marnix Busstra loves crossing borders. He travels the world with his jazz bands, plays both guitar and bouzouki, writes both jazz and theatre-songs, and co-creates and directs the exuberant theatre shows of his wife, Dutch diva Karin Bloemen.
As leading critic Mattie Poels wrote: "Marnix Busstra is a wonderfull characteristic guitarist, who's got a striking musical style. He's a story teller, with a lot to tell." (more reviews/quote's)
Musical influences
His musical influences are just as multifaceted. Marnix studied jazz guitar at the Amsterdam conservatory, explored both classical Indian music and 20th century western music, and developed the art of translating lyrics into music. The instruments he plays reflect this background; next to the electric guitar, he uses an Irish bouzouki, and a custom built electric sitar.
Compositions
He wrote numerous compositions in a wide range of musical styles. Renowned vibraphonist Mike Mainieri loves playing his jazz work, vocalist Dianne Reeves sang his music, while the classic Dutch song 'Geen kind meer' won the Annie M.G. Schmidt award for best theatre composition.
Current projects
Marnix currently leads the Marnix Busstra Band and the Old School Band and co-leads the Mike Mainieri/Marnix Busstra Quartet. Besides these bands he is working solo with his 8-string bouzouki and is working as a duo with vibraphone player Vincent Houdijk. On a non-musical level, he is a committee member of a small foundation that supports orphan children in Mongolia.