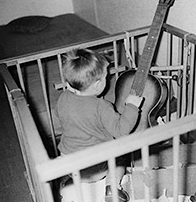 Marnix comes from a musical family. His dad, Jan Busstra, was a musician and a piano teacher with a great love for jazz. Berthil, brother and co-leader of the Buzz Bros Band, plays keys, and their younger sister, Margreet, is a professional singer and multi-instrumentalist. At an early age, Marnix tries his hand at the piano, the drums, the trumpet, and the guitar, deciding for the latter around the age of fourteen. Having started with a couple of lessons on the classical guitar, his growing love for jazz soon makes him switch to the electric guitar.
1970's: First band: Topaz
He joins his first serious band while still in high school. Topaz features his music teacher and pianist Martijn Breebaart, and bassist Norbert Sollewijn Gelpke, whom he still works with. Marnix soon starts contributing to the band's funky fusion repertoire, writing his first songs.
1980's: Last Resort
In the 80's, Marnix joins Holland's popular fusion band Last Resort, led by well-known vibraphonist Carl Schulze. Performances at the North Sea Jazz Festival attest to their success.
1989: Second Vision
Based on the many tunes he writes for Last Resort, Marnix decides it's time for a group of his own. It's time for Second Vision. The band stays around for no less than fifteen years, and releasing several CDs.
1992: Karin Bloemen
Marnix is the guitarist for Karin In Concert, one of the first theatre shows of this Dutch Diva. After the show, the couple starts a fruitful collaboration, resulting in a growing number of albums and theatre shows, directed by Marnix.
1995: Marnix Busstra 4-tet
The Marnix Busstra 4-tet, another step into the future, allows Marnix to explore new compository avenues, focusing on a quest for simplicity and the essence of the music.
2002: Buzz Bros Band
In 2002, Marnix and his brother Berthil start the Buzz Bros Band, featuring his brother Berthil on keys. The band sets a new sound stage, combining double bass, a Fender piano, a drummer playing brushes only, and Marnix's collection of string instruments. The compositions focus on creating moods and sonic atmospheres, combined with intense grooves.
2006: Mike Mainieri/Marnix Busstra Quartet
Four years later, vibraphonist Mike Mainieri and Marnix start the Mike Mainieri/Marnix Busstra Quartet, a band that allows Mainieri to explore his full range of experience. The combination of vibes with guitar, bouzouki, and electric sitar makes for a unique sound and approach.
2011: Marnix Busstra Band
In this year he started the Marnix Busstra Band, where freedom and interaction are the main keywords. Joined by three Dutch fellow musicians, Marnix creates lyrical, multifaceted jazz that marks yet another step in his compository development.
2015: Old School Band
The Old School Band is indeed an 'old school' jazzquartet with a solid touch of funk. Together with his friend/bassplayer Norbert Sollewijn Gelpke – they know eachother from kindergarden and are still good friends – he started this band, exploring the edges of funk and jazz.
2020: Solo bouzouki
Due to the corona lockdown in 2020,  Marnix used his forced empty calendar to record a first solo-album with his 8-string bouzouki: Dances with silence. The album (his first on Vinyl!) is  released in 2022 on the audiophile label RAR.
2022: Marnix Busstra/Vincent Houdijk Duo
The collaboration with vibraphone is a common thread in Marnix' musical life; it started in the 80's with Carl Schultze's band Last Resort, then came the Mike Mainieri/Marnix Busstra Quartet and now is the time for a new adventure: the duo-project with Dutch vibist Vincent Houdijk.