Our 2013 tour to the Philippines and China starts with an unpleasant surprise: our bassist, René Dissel, has health issues and decides not to join us – no more than two weeks before our departure. Fortunately, we find another great bass player to join us: Udo Pannekeet, and he's fully available. He's eager, too: he turns out to know the entire repertoire by heart at our first rehearsal!
Thursday September 19
Despite the usual traffic jams, the entire band – the Busstra brothers Marnix en Berthil, drummer Marc Schenk, and bassist Udo – is perfectly on time for our Cathay Pacific flight to Hong Kong. We're happy to find out that the lady at the check-in desk allows us to take our instruments as hand baggage – the way it should be. We have a nice flight, aided by our comfortable window seats, and even 'I never sleep in planes' Berthil dozes off for a couple of hours.
Friday 20
Transfer time to our flight to Manila is an hour and a half, and again we get to bring our instruments on board ourselves. Arriving in Manila, we're picked up by someone even before we get to customs, and we're looking forward to a perfectly organized festival. We feel welcome – a good start.
We're not surprised about the combination of high temperatures and an equally high humidity, based on our previous trips to Asia, but something feels different from those other countries. The smell, for one thing. At the hotel, Bernie, a very kind and cheerful lady, takes us through the program for the next few days, and then allows us to get some sleep and relax for a bit.
The festival takes place at the Manila concert hall, a 1800 seat venue across from our hotel. We decide to go see some of the other bands that play, and get a feel of the ambience.  There's a solo accordion player from Brazil, a jazz quartet from the Philippines, and a Japanese big band that plays fine arrangements of classic jazz tunes. The level of playing is high. We end the day with a last drink at Berthil's smoking room. A tradition on our international tours, by now.
Saturday 21

In the morning, we find out that the Philippines have been hit by a typhoon – including Manila. It simply doesn't stop raining and sections of the city are flooded. Luckily, we're in a safe area, in city center. We pass some time in a nearby Starbucks, waiting for soundcheck time.  When we get to the venue, we're pleasantly surprised, again, by the professionalism of the organization. Great equipment, great sound techs, everything. We also get to meet the man in charge, a very friendly guy, as well as the daughter of former president Marcos. She's involved with the organization, as well as with the youth orchestra that plays the festival.
We're very happy with our first performance, that same night, but the number of visitors is very low due to the consequences of the typhoon: many people simply couldn't get there. Still, the ones that did make it seem to be very happy – and so are we.
Sunday 22
An early rise, today, as we have a brunch/lunch gig in the Sofitel Hotel, featuring the largest buffet of the country, and easily the largest buffet we ever had the pleasure of attending, sporting food from some thirty cultures: French, Japanese, Indian, South American… There's even a separate room – to keep the aroma in – with an amazing collection of French cheeses. Of course, everything is of top notch quality, including the dishes from our favorite cuisine, India.
Playing when people are eating is never easy: the food simply keeps the audience from listening. Making the best out if it, we decide to use the show as a perfect occasion to further break in Udo. Other than that, we have a great time with the two ladies that are assigned to the band for the day. They're very interested to find out more on the Dutch coffee shops, as are most foreigners, wherever you go. Well, at least we're famous for something…
Monday 23

It hasn't stopped raining, and the flooding has become even worse. As a result, our workshop at the Manila conservatory has been canceled. Instead we go the impressive Mall of Asia, where we enjoy their many games and shoot some pool. The fact that the sewer system can't handle all this water becomes evident when we have diner outside, later that day. It's kind of smelly, to say the least. Our traditional late night drink at Berthil's takes a while, and we decide to hit the sack around 3 am – except Udo, who wants to find out what Manila's nightlife is all about. Minutes later, he finds himself to be the only customer at the hotel's night club, surrounded by no less than twenty ladies who seem more than happy to see him. He gets his beer down in no time and moves out faster then he came in. Welcome to Manila!
Tuesday 24
The rain has stopped, finally, and we move to another hotel. At the Mandarin, we're received by their friendly Dutch manager, Torsten van Dulleman. A long drive takes us to the conservatory, where we'll do yesterday's postponed  workshop.  On the way over, we finally get to see more of city.
The workshop itself is a heartwarming experience, with some 40 very enthusiastic students who really want to get most out of the event.  Two very talented drummers and a pianist even play a few tracks with the band. It looks as if there's a bright future for jazz in the Philippines!
The organizer of the workshop expresses his gratitude by inviting us to a traditional dinner-dance, in a beautiful building in the old city center. Just as he wants to proudly introduce the band to the other guests, the Buzz Bros chiefs Marnix and Berthil happen to have a smoke outside – but Marc and Udo happily save the situations and even get to dance as the orchestra is playing. No, we don't have that on tape, unfortunately.
Wednesday 25
Marnix starts his day at the hotel gym, where an overly fanatic Japanese guy is working out, producing  so much noise that Marnix doesn't know if he should laugh or worry – until someone from the gym approaches the man and asks him if he's okay.
At the soundcheck, that afternoon, we find that the digital piano in the hotel club is somewhat below par, but after a few hours of 'warming up' it appears to do most of what it's supposed to do.  We have dinner at the hotel. Tastes good, but the food has ill effects on Marc and Marnix, making their night a tough one.
We're honored to see the Dutch ambassador and his wife join the show, as well as singer Sandra Viray. We find out that having an instrumental band in this club is an experiment, but the audience loves the music, and we're happy to once again see that our concept also works for jazz debutants.
Thursday 26
No music today, traveling from the Philippines to Guangzhou, China. And again, we're flying with a company that is perfectly okay with us bringing our instruments as carry-on luggage. Jing Jing, a lady friend of our Guangzhou contact, picks us up from the airport. After checking in she takes us to a nice Muslim restaurant nearby. No alcohol, but the tea perfectly fits the food. Marc still doesn't feel well, so he stays in the hotel.
Friday 27
We have time to spare, and decide to visit a Buddhist temple. It's beautiful, and obviously not a tourist attraction, allowing us to fully experience its peace and quiet. Lunch at McDonalds, chilling a bit, and up to the C-Union, a small but fun underground club with an undeniable 60s atmosphere.
After the soundcheck we have dinner with soundtech David, and Mark, the owner of the club. The latter is an amazingly positive guy who can't stand the critical attitude of the Chinese youth: 'We're so much better off than our parents, we can do whatever we want, so why nag about our government. Let's have a good time!' He sounds so convinced that at least some of what he says should be true… We enjoy our show as much as the audience, and sell piles of CDs. A great night!
Saturday 28
We get up early for our train trip to Zhuhai. Breakfast is at McDonalds, again, lacking a decent alternative. The trip is quite an experience, showing us once more how quickly China is developing.
In Zhuhai, Cleo is waiting for us – young, shy, and really kind, a volunteer of the Beishan International Jazz Festival. At the festival, we shake hands with the man who also organized the festival's first occurrence in 2010, when we played there too. It has grown substantially, and so has the organization.
In the afternoon, we're interviewed by people who really want to know everything we can tell them – as if they want to find out every musical secret we might have. Fun! The festival radiates the same 60s feel as the club that we played yesterday. No wonder, given the fact that todays youth is so much better off than people were in years before.
That night, we enjoy our performance so much that our solos get a bit too long and we're running late. We actually need to skip some of the songs we planned to play, which musically is not the best solution – but nobody seems to really care. The crowd goes crazy, we sell loads of CDs and sign dozens of autographs, and we at our table for at least an hour.  An interview follows, and stalked by some die-hard fans we hang out at the festival for a bit longer. No too long, though, because we've got to get up early again.
Sunday 29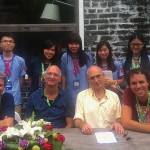 We travel from Zhuhai to Hong Kong by boat, in the musical company of a number of artists that will be playing the same festival. Soundcheck is early, at 11 am, and Berthil is very happy with the grand piano that he gets to play. A guy called Richard is around to help is out with things, and he takes Berthil and Marnix to the hotel while Marc and Udo stay at the venue, trying to get a bit of a feel of the hectic city of Hong Kong.
Our show is the last performance of the day, and there's more than one reason not to be very happy about it. It starts raining, and as all the preceding acts run late, we get to play no more than half an hour. The people that have withstood the rain, armed with umbrellas, give us a big hand. We sell the remainder of the CDs and get into a cab, to the airport.
It's the same airline that we flew in with, Cathay Pacific – but much to our surprise, we are not allowed to take our instruments along as carry-on luggage, due to a lady who thinks that doing everything by the book is the best way to make a good impression. Not on us, though. After an argument of close to an hour we're forced to hand over our instruments, inadequately packed in cardboard boxes. We're pissed off, to say the least, and we can only hope that the tools of our trade will survive the trip.
Monday 30
When we get back to Amsterdam, we're happy to see that they actually have survived, without any problems worth mentioning. Relieved and satisfied – and tired – we shake hands and go our own way, thanking Udo once more for saving this tour…